Familyplus is a nonprofit evangelical Christian organisation with specific focus on marriages, families and parenting. We are based on the teachings and principles of Jesus Christ our Lord and Saviour.  We spread the Gospel of Jesus Christ through a practical outreach to homes about the Christian faith and the importance of the family. We provide information to local churches that will equip them to foster the institution of family.We are dedicated and mandated by the Holy Spirit to train and equip born-again believers in three areas:
Christian living
Financial and Money matters
Strategic planning
OUR BACKGROUND.
Mr. Oluwole Owolabi

Olu Owolabi is a charismatic, pro-active technical thinker; and visionary. Exceptional leadership quality, and a track record of achievement in implementing ICT change successfully and efficiently, based on a thorough understanding of business processes.
Olu is a certified international IT programme manager with a subject matter expertise in Enterprise solutions and infrastructure architecture management. Developing systems' architectures to support process change and transformation programme in Government, Telecommunications, Healthcare, Finance and Retail industries. I have excellent knowledge of transformation and change management in the public sector that involves complex and multi-disciplinary technical modelling and integration assignments.
Olu is a certified Information Technology Consultant with a strong systems integration expertise, implementation, testing and deployment background, bringing industry credentials and strength in the areas of Project Management (conceptual to implementation), Systems Design, Application Development, Capacity Planning, Change Management, Testing, Quality Review and Support, Budget Management, Staff Management, Procedural Documentation, Problem Analysis and Resolution, Procurement, Contractor-Vendor Relations and Proposal Review. Olu have extensive experience in project justification, budgeting and execution to reflect business objectives and goals.
Specialties:Healthcare, Banking, Retail, Telecommunications, Transportation, Media and Training
EDUCATION
B.Sc (Hons) – Computer Science
M.Sc – Computer Science
Association of Project Managers, PRINCE2 Certified (APM-UK)
Mrs. Tola Owolabi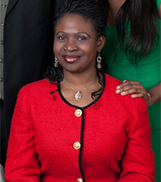 Managing Director, Kingdom Wealthcare. Background in accounting, auditing and public sector accounting. Tola's successful career spanning over 20+ years of demonstrated success in financial planning, wealth management, and investment operations. Expertise in strategic planning, financial planning,and personal investment. She teaches financial empowerment,  investment management. With her academic qualifications she consistently contribute to global corporate growth, profitability and productivity. Tola is a committed team player, she is recognised for professionalism, integrity, and visionary leadership. Married with children.
EDUCATION
Certified Public Accountant, C.P.A
Master of Business Administration, M.B.A
Bachelor of Science (Hons), B. Sc. Accounting
American Institute of Certified Public Accountants (U.S.A)
Association of Project Managers, PRINCE2 Certified (APM-UK)